Sea Tech offers full service and installation of marine air conditioning systems including Split, Self-Contained, Reverse Cycle, and Chiller systems as well as, ice makers, refrigeration and dehumidification units. Serving Southwest Florida since 1999, we have the experience and resources to ensure your installation or repair is done right the first time!
Sea Tech, with many years of experience as a Dometic/Cruisair and Webasto dealer has again expanded our service area. Recently adding to our staff a dedicated AC service technician in order to support the growing demand for AC and refrigeration service and repair in Collier, Lee, Charlotte and Sarasota counties.
We at Sea Tech are dedicated to providing our current and future customers with the same high quality service for their climate control systems as we have with our other product lines. Please visit us at www.Seatech.net for further information on our products and services.
Event Details
Event: 28th Annual Bonita Springs Boat Show
Dates: March 2nd – 5th, 2017
Times:
Thursday, March 2nd, 10am-6pm
Friday, March 3rd, 10am-6pm
Saturday, March 4th, 10am-6pm
Sunday, March 5th, 10am-5pm
Admission: $8
Venue: Naples Fort Myers Greyhound Track
Address: 10601 Bonita Beach Rd SE, Bonita Springs, FL 34135
Phone: 239-656-7083
Sea Tech welcomes Webasto to our ever growing line up of high quality marine products and accessories. Webasto, founded in 1901 manufactures a broad line of marine cooling and refrigeration solutions. We look forward to providing state of the art air conditioning systems to our valued customers.
The Naples Boat Show is owned and managed by the Marine Industries Association of Collier County and is the largest premier recreational show in the Naples-Marco Island area. The show will feature displays by Marinas, Boat dealers, and other marine related businesses.
Admission:
General 1-Day $10, Kids 12 and under FREE with a paying adult Parking: Free onsite parking No Dogs Allowed.
Activities:
Saturday & Sunday 12:00-2:00pm: Seminars Sponsored by Coastal Angler Magazine
Kids' activities.
January 19-22, 2017 10am-5pm daily
Naples Airport
526 Terminal Dr
Naples, FL 34104
GPS ANCHORING ADD-ONTO ITS OPTIMUS 360 JOYSTICK CONTROL SYSTEM
Advanced Technology Allows Boaters To Hold Position, Heading Or Both
Litchfield, Ill. October 4, 2016
–
Maintaining a stationary position while on the water presents numerous challenges for any captain, especially when fishing. SeaStar Solutions' amazing new SeaStation™ GPS anchoring system meets those challenges head- on with the simple push of a button. What could be easier?
SeaStation is an add -on system to SeaStar's state of the art Optimus 360 joystick control system. SeaStation's dual antenna GPS sensor provides input to the Optimus 360 controls to automatically hold a vessel's position, heading – or both, depending upon the need.
Newly developed software and smart algorithms most efficiently control shifting and throttle, as well as engine position, to maintain
a designated position on the water. To keep these adjustments smooth and passengers comfortable, the algorithms are designed to minimize engine shifting, engine rpm and steering movement. The captain can further reduce SeaStation's throttle and shift adjustments by favorably positioning the boat with regard to wind and/or current in order to take advantage of natural forces.
SeaStation affords the captain three distinct modes (patent pending) of operation.
1. Position Mode
Setting up on an underwater reef, rock or wreck typically requires several steps, including gauging wind and current in order to drop anchor in just the right spot to then drift back over the reef or rock. When wind and current are going in opposite directions, it's practically impossible to hold a good spot for fishing, even using an anchor.
In the "position hold" mode, the boat will hold its position as it maintains its natural heading given wind and current. In other words, the boat will hold position, but its heading may change as it is affected by wind or current, resulting in less work by the engines and steering system.
2. Heading Mode
Drift fishing is another challenging example. When wind and current are at odds, the boat will tend to drift and spin, making it difficult for the fishermen on board to keep lines straight as they move around from port to starboard and back again. The same holds true for kite fishing. When the boat spins and drifts , kite lines get tangled. In other words, it gets messy in short order.
In the "heading hold" mode, SeaStation will hold the designated course heading.The boat holds its course heading, with the bow pointed in the heading direction, while allowing the vessel to drift with wind and/or current.
3. Heading And Position Mode
The "heading and position" mode will hold a boat in one spot without spin or drift. This mode will be particularly useful when fishing around a buoy or other fixed structure, or while waiting for a bridge to open or for a spot to open up at the dock.
SeaStar's proven Optimus 360 joystick control system for boats with twin, triple or quad outboard motors is at the heart of the new SeaStation feature. Optimus 360 provides forward, reverse, diagonal and even sideways boat movement via input from a joystick controller. When combined with a compatible autopilot, Optimus 360 also provides directional control based on autopilot/GPS input. SeaStation expands on this capability by controlling steering and thrust to maintain a specific position, countering the effects of current and wind.
SeaStation's dual antenna GPS interfaces directly with the Optimus 360 system via a devicenet CAN harness.
Installation by an authorized SeaStar Optimus installer or OEM is required. Once installed, a sea trial may be
needed to fine tune the system to assure optimal control and performance. SeaStation should not be engaged if people are swimming, diving or anywhere in the water around the boat.
For more information on SeaStar Solution's SeaStation virtual anchoring system, Optimus 360, Optimus EPS, or
any of SeaStar Solutions' full range of steering and control products, please visit www.seastarsolutions.com.
44th Annual Fort Myers Boat Show
November 17-20, 2016
The 44th Annual Fort Myers Boat Show, November 17-20, 2016 at the Harborside Event Center and the City Yacht Basin is shaping up to be the biggest show in the last several years. On the Caloosahatchee River, in the heart of the historic "River District" (myriverdistrict.com), this is just about the perfect setting for a show with a unique combination of indoor, outdoor and in-water display areas. You will find more than 500 boats, 160 accessory booths, 100 plus different boat lines, and a variety of how-to and boating information displays.
With just about every type of boat imaginable, you will find inflatables, personal watercrafts, skiffs, bay boats, flats boats, center console boats, pontoon boats, deck boats, cruising boats, performance boats and much more. In water at The City Yacht Basin will be both new and brokerage boats of every description to nearly 80' in length.
From engines and electronics to docks and boat lifts, to all types of marine services to clothing and nautical gift items, and just about everything else you need on the water, you will most likely find it inside the Harborside Event Center or throughout the outdoor displays.
In Centennial Park, "Fishin' Frank's Fishin' Village" is its own mini-fishing show. There will be tackle displays with many factory reps on hand, a seminar area with local charter captains talking about inshore and offshore fishing, a casting tank, and the popular fishing simulator which gives visitors a chance for a virtual battle with everything from bass to marlin.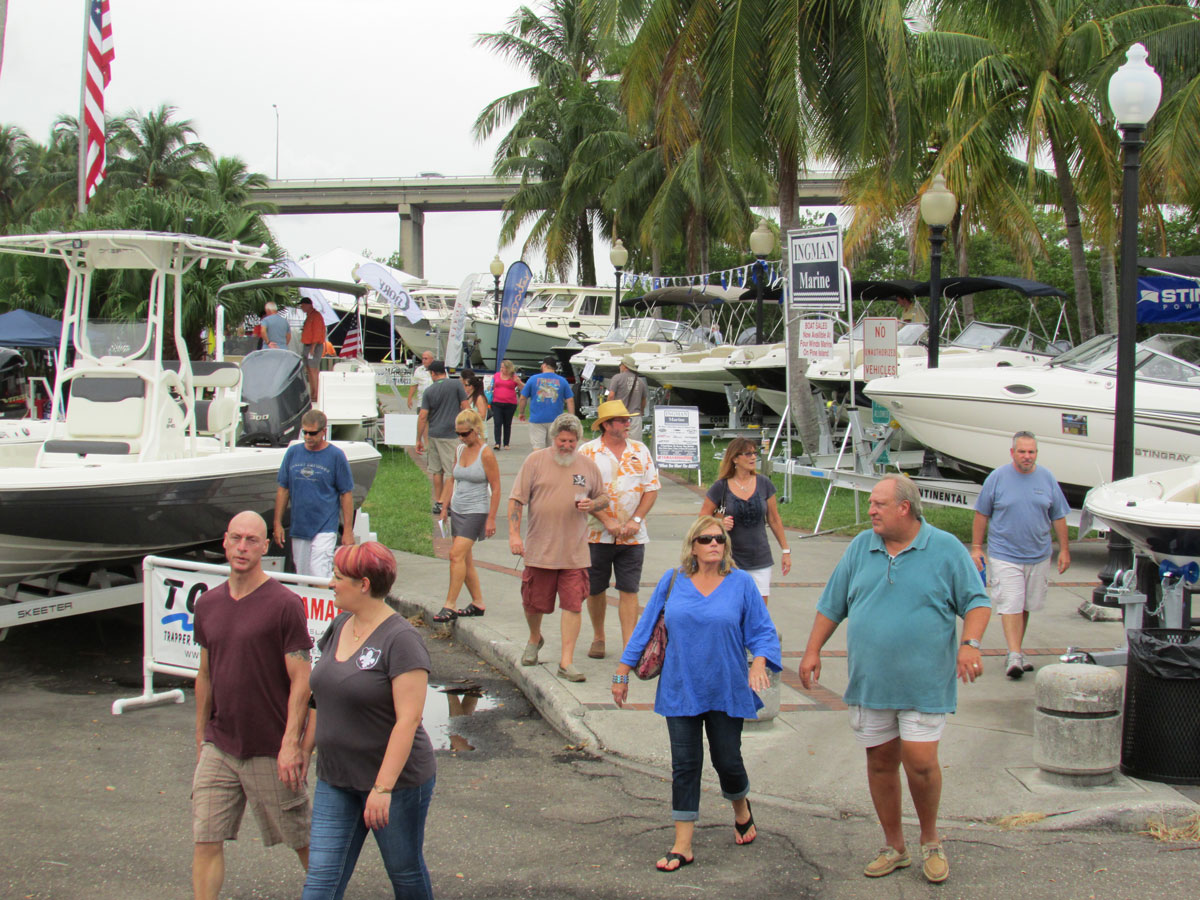 The Naples Boat Show Downtown is owned and managed by the Marine Industries Association of Collier County and is the premier In-Water recreational show in the Naples-Marco Island area. The show will feature displays by Marinas, Boat dealers, and other marine related businesses.
Admission: FREE
Parking: ** Free Shuttle transportation aboard the Naples Trolley from these locations
City Parking Garages:
* 400 8th Street South
* 801 6th Avenue South
Parking Lots:
* 8th Avenue South and 8th Street South
* 3rd Avenue South and 7th Street South
The Landings Park
Perimeter Parking around *Cambier Park, Broad Ave
Alley parking behind 5th Avenue South to the north and south
* Free Shuttle Transportation from these locations aboard the Naples Trolley